On a Wednesday in Brooklyn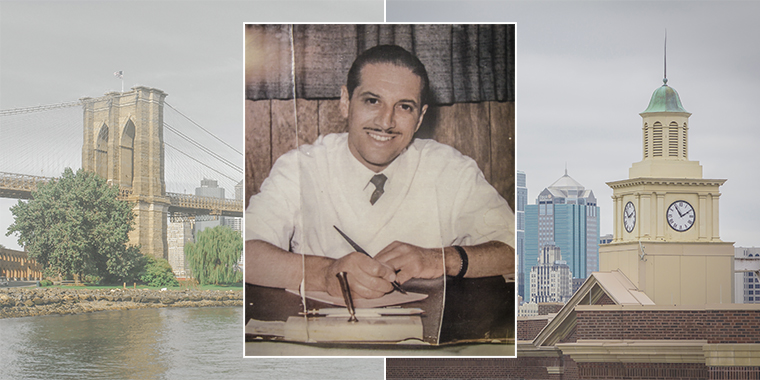 Leonard Smith, DO (COM '54), Dedicated Course of an Acclaimed Career
---
Friend. Advocate. Mentor. Pioneer.
Those words gained dimension when Michael Smith, DO, attributed them to his beloved father, Leonard Smith, DO (COM '54), on December 17, 2017. During a crowded memorial service in Bucks County, Pennsylvania, Dr. Michael Smith paid tribute with an emotional eulogy for Dr. Leonard Smith, the physician and father, who instilled in him the values of family medicine, philanthropy and living life with a compassionate heart.
"Dr. Leonard Smith was my dad, my 'pop,' but he was also my mentor," said the proud son, who worked side by side with a father he deeply admired and respected for nearly 18 years. "His legacy as a man of medicine will be his greatest accomplishment. I know he was very proud of it. He was a pioneer."
Leonard Smith passed peacefully on December 14, 2017, leaving a rich inheritance of commitment and dedication defined by a philosophy and discipline rooted to family, career and his alma mater. Hundreds of patients and their families, his community, students and countless colleagues, along with sons Michael Smith and Steven Smith, DO, daughters-in-law, six grandchildren and Francine—his precious wife of 66 years— will forever remember Leonard Smith as a man of conviction whose impact extended far beyond the family practice he established in Levittown, Pennsylvania, in 1955.
A Future in Medicine, Realized
A native of Queens, New York, Leonard Smith grew up longing to be a doctor. He graduated from Syracuse University in Syracuse, New York, in June 1950, precisely four years after World War II ended and the Korean War began. It was difficult, if not impossible, to be admitted to a medical school as a non-veteran. As a member of the U.S. Army Reserve Officers' Training Corps (ROTC), which he joined during college, the young Smith was already sworn in as an officer of the infantry, destined to leave for duty the Monday following graduation.
Life took a momentous and serendipitous turn when two Brooklyn, New York, shop owners—whose businesses were near the grocery store Smith's father owned—stepped in, offering information about a medical school their sons were attending in Kansas City, Missouri. Following Smith's whirlwind interview on a Wednesday in Brooklyn with an alumnus of the Kansas City College of Osteopathy and Surgery, now Kansas City University of Medicine and Biosciences (KCU), the prospective medical student was notified on that Friday that he had gained admittance to the class of 1954. The draft board extended his reserve status, so he packed his bags and purchased a train ticket to Kansas City.
Arriving in Kansas City just in time to enroll in classes, Leonard Smith was off to pursue his life's dream of becoming a doctor, less than a week after his dream became a possibility.
Following four years of training, he received a year-long internship at Conley Maternity Hospital in Kansas City. His son, Steven, was born during the internship. After completion, Dr. Smith and Francine moved to Levittown, near Philadelphia, for his residency. Then, in the home the couple purchased,
Dr. Smith opened a family practice with an emphasis in surgery and internal medicine.
"We lived in the midst of where the world's largest steel mill was being built," recalled Francine, who performed duties as office manager and receptionist in the practice's early days. "He had plenty of business."
A Philosophy of Care and Philanthropy for the Ages
As one of the area's first doctors, the enthusiastic physician embodied the textbook notion of a family doctor—he not only delivered babies, but also set broken bones, made countless house calls and assisted in patients' surgeries. Dr. Smith moved from his home and opened an office in nearby Langhorne; years spilled into decades, and the board-certified family physician and diplomate of the American Osteopathic Board of Family Physicians listened, comforted and talked to the generations of people in his care.
"I learned more working with my father than in my six years of training," said Dr. Michael Smith. "He taught me to genuinely care for people and the medicine will take care of itself. 'The medicine is easy,' he would say, 'but people need to trust you and believe in you, as a person.' I apply this truth every day, not only in my office, but in daily life. It has helped me be a better person.'"
Following in their father's footsteps and inspired by his work, not to mention the satisfaction he derived from medicine, Michael and Steven pursued and embraced the field of osteopathic medicine, graduating from the Philadelphia College of Osteopathic Medicine in Philadelphia.
Adamant about fulfilling obligations, Dr. Smith served in the Army Reserve Medical Corps until 1981. Throughout his celebrated career, he received many awards, including Distinguished Physician of the Year from the Pennsylvania Osteopathic Medical Association in 1993, the same year that KCU –then the University of Health Sciences–bestowed him with the Presidential Award for Outstanding Alumni.
Not content to be on the sidelines of his profession, Dr. Smith endeavored to enhance the community as one of the founders of the Delaware Valley Medical Center in Levittown and served as KCU's Honorary Chair of Campaign 2000, spearheading the $8 million capital campaign and helping to secure what was then the largest single gift in the school's history. Because of his dedication to his alma mater, Alumni Hall was renamed Leonard Smith Hall and functions today as Kansas City University's vibrant resource center— and the campus's most recognizable building, topped with a clock.
Contributing time and talent, in addition to considerable treasure, was a highlight repeated on Dr. Smith's extensive resume. He served as president of the KCU Alumni Association and as a member of the university's Board of Trustees and the Delaware Valley Medical Center's Board of Directors. He was also active member of the Pennsylvania Board of Osteopathic Medicine, among other professional organizations.
Michael assumed responsibility of the Langhorne practice when Dr. Smith retired in his mid-60s. He and Francine divided their time between Pennsylvania and Palm Beach County, Florida, where he volunteered at Caridad Center, the largest free health clinic in Florida and one of the largest in the nation.
"I am so proud he was able to help people not only when he was in practice, but into retirement," said Francine. "One day during my appointment at a hair salon in Florida an employee approached, with tears in her eyes, and told me that Leonard took care of her at Caridad. I sensed her heartfelt appreciation. It was one of those many priceless moments when I realized the positive effect my husband had on everyone who came into his path."
A Legacy to Inspire, Motivate and Perpetuate Excellence in Education and High-Quality Health Care
The chapters of Dr. Smith's remarkable story continue to be written through the Leonard Smith Scholarship Fund that he established in his and Francine's names in 2004, and another in the week leading up to his death—ensuring that students will reap the benefits of a world-class education, like he did as an eager medical student in 1950.
"Loving and supportive, he taught me and my brother, our children and everyone he treated or worked with him in any capacity things about being a better person," Dr. Michael Smith told the crowd gathered to honor his father in December. "I learned from his example that you don't judge people but regard everyone with the same respect you want for yourself. He was a great man, proud and self-confident."
During an interview in 2000, Dr. Smith observed "I owe a lot to the University, because if it wasn't for them, and the situation of a Wednesday to a Sunday in the summer of 1950, I might not have experienced the opportunity I received. I never want to forget the school or profession, and I hope the osteopathic profession and the school never forget me."
A true servant-leader for the ages, Dr. Leonard Smith's indelible influence and spirit will live on in the hearts of all who knew him, in his chosen profession and in the halls and classrooms of the school he cherished.