The Pathway to Practice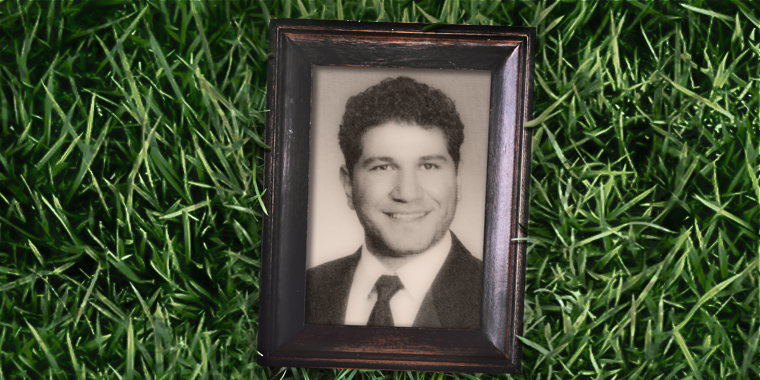 Ahmed Awad, DO (COM '94), helps smooth the way for foreign medical students with a merit-based scholarship and personal story of triumph.
---
From the sands of Saudi Arabia to the expansive lawn of Kansas City University of Medicine and Biosciences (KCU), Ahmed Awad, DO, FASN (COM '94), has had a remarkable journey—one characterized by determination, passion, opportunity, achievement and philanthropy—and a stint as a lawn caretaker.
Continually humbled by his career trajectory and never taking any measure of success for granted, Awad established the Awad Family Diversity Scholarship in 2017. The merit-based scholarship is awarded to KCU students facing struggles similar to those that Awad encountered when moving to the U.S. to attend medical school. The notion of giving back is not just important to him; it's essential.
"No matter how high you reach in life, when you die, nothing matters except your reputation," said Awad.
Lending a helping hand—whether it's providing high-quality, compassionate care to patients, mentoring a promising student or teaching his three children the intrinsic value of humility—is inherent in his personality.
DEFINING A DREAM
As a 17-year-old Palestinian refugee, born and raised in Saudi Arabia, Awad graduated high school in 1984. A dedicated learner, he was rewarded for his outstanding academic efforts by graduating in the top 10 percent of students across the vast country. Eager to pursue a career in medicine, inspired in part by his grandfather's struggle as a diabetic who suffered complications due to poor health care, Awad began the arduous task of seeking admittance to King Saud University—something impossible in Saudi Arabia since he was a foreigner, he soon found out.
Paying a visit to the Jordanian Embassy in Saudi Arabia, the earnest teenager made a case for entering medical school in Jordan.
All I had was a refugee document from Palestine," explained Awad. "Hardly the proper paperwork for going to a medical school in Jordan."
The unsurprising rejection didn't represent a roadblock to Awad's dream of becoming a doctor, but merely a temporary obstacle that would soon be resolved.
"My father, an electrical engineer, spoke English well and, being a social guy, networked and got to know some people in Saudi Arabia with connections in Kansas City," said Awad. "My high school transcripts were sent to a man in Kansas City and two weeks later, I received notice of acceptance to University of Missouri-Kansas City School of Biological Sciences (UMKC) for premed as a biology major with a chemistry minor."
STRANGER IN A STRANGE LAND
Moving halfway across the world in 1985 to an unfamiliar city in the heartland of the U.S. didn't deter the aspiring medical student's enthusiasm. Because of his status as an international student, he wasn't allowed to apply for bank loans and due to his enterprising nature, Awad accepted a job with KCU's greens-keeping team. To assist in covering school expenses he cut grass, helping maintain the lawn's meticulous appearance—a source of pride for Awad. The hours working outside the classroom earned income to defray school and living expenses, including $300 monthly rent for a studio apartment, and also enabled him to purchase a well-used Chevy Celebrity with 100,000-plus miles for transportation.
In addition to his job at KCU, Awad tackled another obligation, this one non-paying: learning English.
"For a semester I attended English as a Second Language class at Donnelly College in Kansas City, Kansas," said Awad, adding with a smile, "That's where I learned about French fries and baseball and things that, as a 17-year-old from Saudi Arabia, you don't know about, but are necessary for assimilating into society."
After completing his premed studies at UMKC, Awad left behind his grass-cutting job, but quickly
stepped back onto KCU's campus, only this time as a student doctor. Awad matriculated into the College of Osteopathic Medicine in 1989, continuing to experience the kindness of strangers who were anxious to help him find ways to ease the financial burden of medical school.
"Not only did this country present me with a priceless opportunity, the KCU leadership and even my fellow students extended resources and encouragement beyond expectation," said Awad. "It was overwhelming to receive support from virtual strangers that my own people—those with whom I shared language, culture and religion—didn't offer."
A SERVANT-LEADER'S HEART
During medical school, Awad worked at PRA Health Sciences in Lenexa, Kansas, where he learned phlebotomy and was first exposed to clinical trials. During the second year of an internal medicine residency, again back at UMKC, the section chief of nephrology suggested Awad might consider nephrology as his specialty.
"I was focused on internal medicine, with the goal of practicing after residency," said Awad. "But after reading several articles about the future demand of nephrology and the sheer number of people predicted to have kidney failure, I became interested."
Following a discussion with his wife, Ameneh, about a change in his medical career course, Awad chose nephrology and was accepted to a fellowship at UMKC. Upon completion, he was invited to interviews in multiple locations outside Kansas City such as Irvine, California, Clearwater, Florida and Pittsburgh, Pennsylvania, among other cities.
The ultimate decision to remain in Kansas City was due to his affinity for the Midwest's congenial personality.
"People are accommodating and genuinely nice," said Awad. "It's something I sensed when I first arrived and confirmed over the years."
Today, as a board-certified nephrologist and
internist, Awad is an assistant professor of medicine at UMKC and a private consulting nephrologist at Saint Luke's Hospital in Kansas City. In 2008 he founded Clinical Research Consultants in Kansas City, which today has 18 employees who conduct phase II, III and IV clinical trials.
"I'm motivated by clinical research advancement in medicine—especially in nephrology— knowing that future patients will receive the benefits," said Awad, who also spent almost 14 years working in a nephrology clinic for the underprivileged that he helped establish at Kansas City's Truman Medical Center in 1999. "My grandfather's predicament is never far from my mind."
Awad's acclaimed career has included recognition for his work in the nephrology field, including an appointment to a Chronic Kidney Disease Task Force in November 2007 by then-Missouri Governor Matt Blunt. He has served as president of the National Kidney Foundation (NKF) of Kansas and Western Missouri as well as chairman of the NKF's Early Intervention Program. He has also written guidelines for the primary care physician for early detection and diagnosis of kidney disease, which received the Kidney Disease Outcomes Quality Initiative (KDOQI) seal of approval.
"I have known Awad since we were both young pups in our careers," said Elaine Joslyn, DO (COM '84), a retired Kansas City family physician whose practice, Neighborhood Family Care, Inc., provided basic medical care to the underserved for more than 20 years. "He embodies characteristics I value in an osteopathic specialist. Well-trained as a nephrologist, Awad views the patient as a whole person, not just a kidney and he regards that patient as part of the community in which he lives and feels compelled to help make better."
In addition to caring for patients, nurturing future physicians is a primary aspect of Awad's work that inspires him.
"My story is proof that, regardless of circumstances, the dream is achievable," he said. "The scholarship provides a means to an end for deserving students."