Student Doctor Meera Raghavan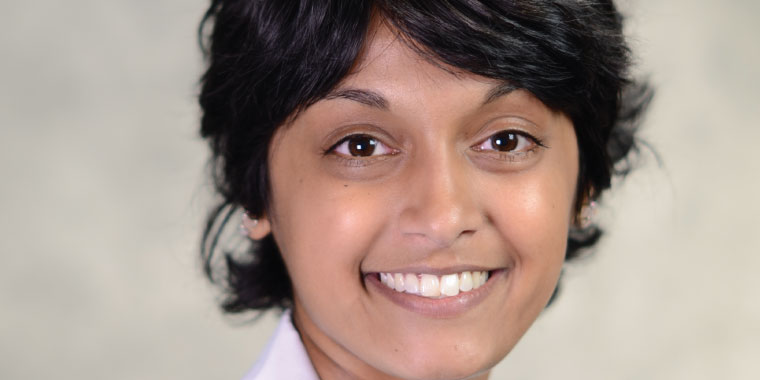 Striking the Perfect Balance
---
As the daughter of two scientists, it's no surprise that Meera Raghavan, OMS II, would be drawn to science. The student doctor earned a degree in biomedical engineering at the University of Utah before landing a post-baccalaureate fellowship at the National Institute of Health (NIH) in Washington D.C. While at the NIH, she worked in the Institute of Biomedical Imaging and Bioengineering as an engineer in a lab bridging clinical and basic sciences.
Her research project focused on finding a way to help female adolescents and children undergoing chemotherapy keep viable eggs. The project revolved around creating ovarian follicles that would help mature these young women's harvested eggs.
"When a woman goes through chemotherapy, she can harvest her eggs which are mature and fertilize them later," said Raghavan. "A 12-year-old female's eggs aren't mature enough to be viable on their own."
But while Raghavan enjoyed the research, something was missing.
"I wanted to be closer to patients," she said. "So I decided to go to medical school."
As a student at KCU, she continues her love of research by working with Eugene Konorev, PhD, KCU researcher and associate professor of basic sciences. Together the two are exploring how the chemotherapeutic drug doxorubicin may result in cell detachment from tissues and organs.
Outside of the lab, Raghavan has discovered a strong interest in pathology. In fact, she will head to the University of Toledo (UT) this July to complete a
fellowship in pathology.
"It's perfect. I get to work in a hospital and do lab work." she said.
At UT, she'll be completing her rotations as well as teaching pathology to first-, second- and third-year medical students. In addition, she'll continue to conduct research.
"They said to come with ideas. Luckily I have a book I keep next to me while studying where I jot down ideas as they come." she said.
With a heavy case load, Raghavan finds creative outlets to help her relax. She runs, practices yoga and paints – cells.
"I was in a meeting with a residency director when I noticed a drawing that I thought was beautiful. It turned out to be cells from a pap smear," she said. From there she started painting pictures of cells from her textbooks.
From the classroom to the lab to the canvas, Raghavan has found the right balance for her on her journey to become a doctor.