Coming Home '19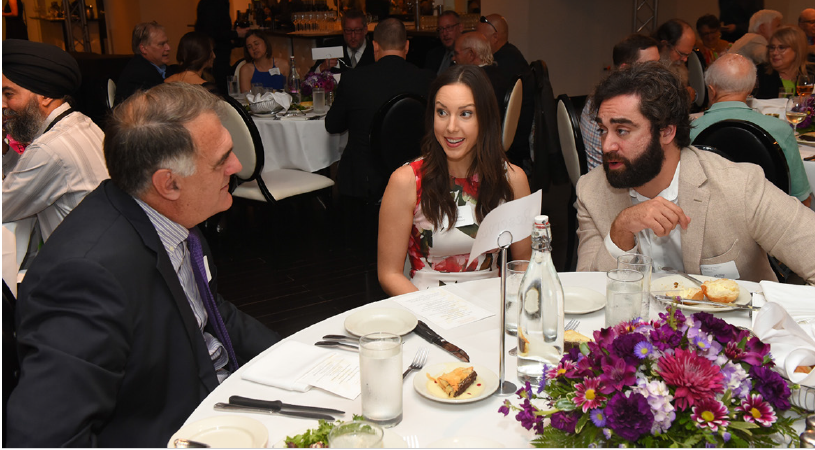 More than 350 alumni and guests gathered on the Kansas City campus September 12-14, 2019, to reacquaint and reminisce as well as attend CME sessions.
---
Activities throughout the three-day Homecoming celebration included the annual meeting of the Alumni Association, Alumni Awards and Recognition Dinner, campus BBQ and picnic, and Class Reunion Dinners attended by 13 classes.
Alumni Association Leadership 2019
Officers:
President Ross Sciara, DO (COM '71)
President-Elect Mary Franz, DO (COM '90)
Vice-President Thomas Randoll, DO (COM '05)
Immediate Past President Cameron Knackstedt, DO (COM '75)
Treasurer Nathan Hall, DO (COM '10)
Secretary Sarah Mingucci, DO (COM '09)
Trustee Darwin Strickland, DO (COM '65)
Directors:
Karen Evans, DO (COM '00)
Edward Glinski, DO (COM '75)
Carl Inzerillo, DO (COM '74)
Elaine Joslyn, DO (COM '84)
Richard Ogden, DO (COM '80)
Mark Schwartz, DO (COM '10)
Frank Totta, DO (COM '95)
2019 Alumni Awards
During the Homecoming Awards Recognition Dinner, the following recipients were awarded these prestigious honors by their fellow alumni and KCU. Watch their videos.
Adam Whaley-Connell, DO (COM '01)
Alumni Achievement Award

Kenneth Shaw, DO (COM '13)
and Errin Weisman, DO (COM '11)
Young Alumni Achievement Award

Leonard Mennen, DO (COM '63)
Alumni Service Award

Herman Barthel, DO (COM '84)
Star-Spangled Banner Medallion

Cameron Knackstedt, DO (COM '75)
Alumnus of the Year Award

Larry McIntire, DO
Distinguished Service Award
Photographic Highlights
| | |
| --- | --- |
| Marc B. Hahn, DO, KCU President and CEO greets guests at the Alumni Awards Recognition Dinner. | Kip Van Camp, DO (COM '90), Miriam McKinney, Phillip Vitte (left to right) |
| | |
| Student doctors Katherine Haakana, Somi Singh, Vinuth Koduru and Madison Steilen (left to right) | Marc B. Hahn, DO, and Darwin J. Strickland, DO (COM '65). |
| | |
| Alumni Achievement Award winners hold up an award for the camera: (left) Herman Barthel, DO (COM '84), 2019 Star-Spangled Banner Medallion recipient and (right) Adam Whaley-Connell, DO (COM '01), Alumni Achievement Award recipient. | Adam Whaley-Connell, DO (COM '01), Jason Knackstedt, Cameron D. Knackstedt, DO (COM '75), Nathan C. Knackstedt, DO (COM ' 01), Thomas R. Randoll, DO (COM ' 05), John M Satchell, DO (COM '83), Daryl J. Callahan, DO (COM '88) (left to right) |
| KCU students join returning alumni at the Homecoming picnic. | Stephen H. Radinsky, DO (COM '69) and his wife Myra Radinsky and Stephen J. Bazzano, DO (COM '69) (left to right) |