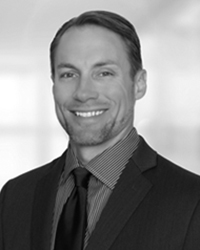 Ed Enyeart is senior vice president, Client Financial Operations, for Cerner Corporation, an international leader in information technology solutions for the industry. The company, headquartered in Kansas City, is committed to managing the information that allows clinicians to provide the best care for patients. In his current role, Mr. Enyeart leads Cerner's U.S. and international financial operations organization.
Since joining Cerner in September 1995, he has served in numerous roles directing the company's financial health and growth, including vice president, Financial Operations; director of U.S. Financial Operations; area controller and regional controller.
He focuses on client relationships and is responsible for Cerner's revenue cycle, including contracting, accounting and financial management. He received Cerner's President's Award, the company's top award granted to two associates on an annual basis recognizing contributions to the company.
Prior to Cerner, Mr. Enyeart worked at Unitog Company in enterprise controls, and for KPMG as a senior accountant. While at KPMG, he acquired knowledge across multiple industries such as construction, manufacturing, retail and distribution.
Mr. Enyeart received his Bachelor of Science in Accounting from Kansas State University and has spent his entire career in finance.