Kelsey Boyle

Kelsey Boyle is a second-year osteopathic medical student at KCU.
Recent Blog Posts By Kelsey Boyle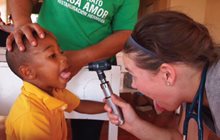 What World Health Day Means To Me
In recognition of World Health Day, KCU student doctor Kelsey Boyle writes about her experiences during two recent global outreach trips. The program provides opportunities for students to travel the globe and help people with medical needs in underserved countries. For Kelsey, one child in particular stands out.