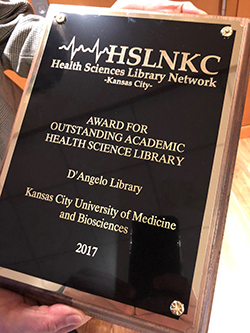 Humbling. Rewarding. Exciting. These are three words used by Director of Library Services for Kansas City University of Medicine and Biosciences (KCU) to describe her reaction after receiving the Outstanding Academic Health Sciences Library award.
"We do what we do because it is our passion. We're engaged in the mission of, "improving the well-being of the communities we serve," Marilyn De Geus said.
Health Sciences Library Network Kansas City (HSLNKC) presented the award to the staff of D'Angelo Library on the KCU campus in Kansas City for outstanding contributions to health librarianship. The award recognizes the "significant amount of time and energy" spent in preparing the Dawson Library at the KCU-Joplin campus to open on time. The award recognizes their efforts which include interviewing, hiring and training of the new medical librarian. Staff also prepared the librarian to implement the Medical Informatics and Information Literacy Course and Grand Rounds Case Presentations to first-year medical students.
"The biggest challenge was the time line we had to hire the Medical Librarian and assist with the staffing needs for the new academic year which was right around the corner," De Geus said. "We felt fortunate in the D'Angelo Library to have such efficient Dawson Library staff to collaborate with through this development and adjustment."
The award also recognizes the willingness of De Geus and the D'Angelo staff to take an active part in doing many of the library services during the training of the Joplin staff.
HSLNKC awards are presented once a year to libraries providing outstanding service to their institutions. The awards were presented at a ceremony prior to the network's annual business meeting at the Stowers Institute for Medical Research in Kansas City.
"I want students to remember that the library team members from both libraries are here to help," De Geus said. "We will always go that extra mile to be helpful."