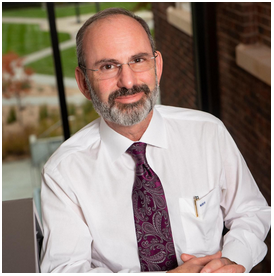 ---
Weekly communications from Marc B. Hahn, DO, president and chief executive officer, to the KCU campus community.
---
Message from the President - May 8, 2020
Campus Re-Opening Update
Our university continues to monitor our state and region and study the best approaches for re-opening both our Kansas City and Joplin campuses, relying on the latest data and expert recommendations from public health, higher education and health care. Our number-one priority is the health and safety of our campus communities, and we are therefore committed to following best practices and policies in order to provide the safest environment possible when we return.
At this time, we are integrating the necessary information and instituting the guidelines for KCU's completion of a phased re-opening plan. Details for each of our academic programs will be shared by May 15 from the Office of the Provost, in concert with communications from our deans. In addition, our COO and Human Resources department will share the phased re-opening of our campuses. Please note that we will be adhering to all established dates in the published 2020-2021 academic calendar.
KCU also has formed an ad hoc task force on campus reawakening to manage our university's return from remote operations and to address ongoing community and operational needs resulting from the COVID-19 pandemic.
Don't forget to join us virtually at 9 a.m. tomorrow morning for our commencement ceremony. We would prefer to be gathering in person to share this great milestone for our students, but we must remain resolved in our commitment to physically distance and reduce the spread of COVID-19.
We also will have a special guest make a cameo appearance during the commencement ceremony.


Additional details about commencement, including a link to the ceremony and receptions, can be found on the graduation page of our KCU website.
Again, I appreciate everything each of you do to support KCU's dedication to educational excellence, research and clinical services, as well as advancing our mission of "improving the well-being of the communities we serve."
Congratulations to the graduates of the Class of 2020. See you tomorrow!
Yours truly,
Marc B. Hahn, DO
President and Chief Executive Officer
---
Message from the President - April 22, 2020
Sharing COVID-19 Perspectives with Broader Audiences
I was pleased to submit a related guest commentary to The Kansas City Star, which was published yesterday. This represents part of an ongoing effort to reach out beyond our campus from time to time to share thinking on current issues critical to education, health care and public health, and their impact on improving the well-being of the communities we serve. Most recently, I have been compelled to offer a voice on matters related to the coronavirus pandemic and the spread of COVID-19. During the past month, two additional opinion-editorials appeared in The Joplin Globe (listen to the science, rural impact).
I will continue to identify opportunities to share medical and scientific perspectives to broader external audiences - particularly as we navigate and respond to this public health crisis and understand its implications for KCU, health care, higher education and our society as a whole.
Please continue to stay home, stay safe and healthy; and know that I am proud of our students, faculty, staff and alumni who strive to make a difference each and every day.
Yours truly,
Marc B. Hahn, DO
President and Chief Executive Officer
---
April 21, 2020 - Addressing Students' Financial Uncertainty During COVID-19
While assuring we continue to deliver programs that satisfy all accreditation requirements and keep our students on track to graduate on time, KCU will implement several measures to provide assistance during these difficult times.
Foremost, the Board of Trustees approved our request to freeze tuition at the current level for all KCU academic programs for the 2020-21 academic year, rescinding the previously announced 3 percent tuition increase. This makes KCU one of only a few health science universities in the nation to announce such a move.
Our Office of Financial Aid is working to identify the maximum financial relief available for students in all of our programs through the federal Coronavirus Aid, Relief and Economic Security (CARES) Act.
KCU's Office of Institutional Advancement is seeking specific philanthropic support through a KCU COVID-19 Response Fund, addressing three key areas related to the pandemic:

Student Hardship Support;
Academic Technology Support; and
Establishing a Professorship in Microbiology (Virology) and Pandemic Response.
Through these efforts, KCU is working to relieve some of the financial stress and uncertainty our students face, remaining true to our vision to "be the most student-focused health sciences university in the nation."
Yours truly,
Marc B. Hahn, DO
President and Chief Executive Officer
---
April 10, 2020 - A Catalyst for Positive Change
But hope remains on the horizon, and history is a proven ally. Whether recovering from a war, natural disaster, economic depression or terrorist attack, our country has shown time and again the ability to emerge smarter, stronger, more resilient and more compassionate toward humankind.
We can similarly use this moment to define what our university looks like going forward, to better position ourselves for the future. We can re-tool health sciences education to more effectively meet our students' needs, shift paradigms to more efficiently deliver patient care, pursue research efforts that truly improve health and redefine our commitment to improving the well-being of the communities we serve - especially those who fall even farther through the cracks in trying times like these.
Indeed, this pandemic has laid bare our worst disparities and inequities as a country, disproportionately affecting those populations that are disadvantaged, underserved and most negatively impacted by social determinants of health. These populations live or work in conditions that make physical distancing impossible; are poorer; lack resources to work or learn remotely; have little or no access to information, education and social networks; suffer higher incidences of underlying medical conditions; and lack access to health care.
We are just beginning to systematically gather nationwide data on racial disparities in COVID-19, but the disease reveals itself to be exacting a much greater toll on communities of color and in particular on African Americans. A disproportionate number of patients hospitalized across the country for COVID-19 are Black, and some cities are reporting death rates among Black Americans that are six and seven times that of other populations. These statistics are a rallying cry to recommit ourselves to addressing the health disparities that exist in our nation and ensuring health care for those who are the most vulnerable among us.
I am grateful to our safety-net partners - Samuel U. Rodgers and KC CARE Health Center in Kansas City and Access Family Care in Joplin - and all of our clinical faculty and staff who dedicate themselves to providing health care to the underserved -particularly in this time of great need.
Our country has much to think about in the days, weeks and years ahead. And we will no doubt come to understand many lessons from this crisis. What we choose to do now will shape what we become in the future. My hope is that Kansas City University will use this experience as a catalyst for positive change, allowing history to remember how we emerged from this COVID-19 pandemic - stronger, smarter, more resilient and more compassionate toward humankind.
Yours truly,
Marc B. Hahn, DO
President and Chief Executive Officer
---
April 3, 2020 - Perhaps a Glimmer of Hope Based Upon Science
If we look at where COVID-19 erupted and was then brought under control in other parts of the world - China, South Korea, Singapore and perhaps starting in Italy - and analyze the caseload growth curves, they can tell the story of where the U.S. may be heading. Looking at how the virus progressed and when the spread began to flatten in other countries is our best story of hope.
We know that left unchecked, without any forces brought to bear against it (such as "social" or "physical" distancing), the virus spreads exponentially, with the number of cases doubling at a steady rate. However, to truly know if we're starting to be the slightest bit successful, we must look beyond the growth of new confirmed cases. This sharp upward trajectory looks absolutely frightening, with no apparent end in sight.
It is more meaningful to look at the growth plotted logarithmically. Logarithmic scales emphasize the rate of change in a way that linear scales do not. Early deviations within the exponential spread of the virus become easier to discern. When viewed this way, you can begin to see where the curve may actually be starting to flatten or plateau, which demonstrates a point where the pandemic is starting to slow in a specific region. When we look at the U.S. cases logarithmically, we can see that perhaps our country may be starting to bend the curve. The next few days will be important, but perhaps this may be the start of our glimmer of hope.
The two online resources I watch daily to follow what is happening with our U.S. pandemic curve and how it compares to other countries are the Johns Hopkins CSSE website and the Information is Beautiful website. I encourage you to check these regularly. You can compare graphs showing both the sheer growth in the number of cases and logarithmic representations for the U.S. and other countries, as well see other meaningful data on the COVID-19 virus.
These data are encouraging me to believe that we may be able to pull out of this crisis through good public health practices (physical distancing, isolating confirmed cases, quarantining their contacts, hand washing, etc.). We'll likely know more with the next 3 to 5 days of data.
In the meantime, for our KCU community and for all of society, we must continue to have hope, embrace science and protect one another. And we must remain committed to public health best practices and continue to shelter in place. Once again, I wish to thank our KCU team who are dedicated to continuing our Mission, Vision and Values; in many ways it has been a miraculous transformation of our academic and business operations in short order. Most importantly, thank you to our faculty and staff on the frontlines of this pandemic - you are the heroes.
I have no doubt our lives will again become normal, but it will be a "new normal." I wish everyone a restful weekend full of hope for the future.
Yours truly,
Marc B. Hahn, DO
President and Chief Executive Officer
---
March 27, 2020 - Repair the World
Certainly, it is a strange and cruel irony that when faced with a crisis of this magnitude and our need for one another most, we are forced to physically remain apart. Still, we must adhere to what medical science tells us. Isolating ourselves from our fellow human beings is paramount and the only way we will eventually eliminate further spread of COVID-19. As individuals and a society, this virus is not only testing the strength of our immune systems, it is testing the strength of our bonds with each other.
Indeed, while embracing this mandate of separation, we are at the same time called upon to come together toward a common purpose - perhaps an obligation - to collectively push back against the forces of this growing pandemic for the greater good.
I was reminded this week of a concept shared by Father Thomas J. Curran, SJ, president of Rockhurst University, in his benediction during my investiture ceremony. He reflected upon what is referred to in Hebrew as Tikkun Olam, which roughly translates to "repair the world." As citizens of all faiths, it is our duty to heal and repair our world whenever possible. This is even more important for us as members of a health sciences university. We will surely come out of this battle bruised and battered and with tragic loss, but our social responsibility to one another, our planet and humankind will allow us to emerge unbroken and stronger. We are all obligated through our religious beliefs, our love of others and our professional obligations to Repair the World.
I thank our faculty and staff for your dedication to maintaining our mission while sheltering in place, and for your commitment and creativity to get your jobs done virtually. And to our students, I appreciate your flexibility in embracing novel approaches to learning and for making recommendations to enhance this new model. To our full-time and adjunct clinical faculty, thank you for your continued service to the patients in the communities we serve. You are the frontline heroes!
I also want to thank our Executive Dean of the College of Osteopathic Medicine Dr. Darrin D'Agostino for continuing to provide a calm and expert voice to the public during this time of uncertainty. You can watch his latest television interview from Fox 4 in Kansas City. Stay tuned for his interviews from Joplin.
It's very easy in this environment to have our work and home lives blend to where there is little separation between the two. I strongly encourage you to find ways to create boundaries between your work and personal lives. Set schedules, establish routines and stick to them, making sure they include sufficient "me" time. Unplug, relax, eat right, get enough sleep, exercise and talk to family and friends often.
I am truly honored and humbled to be the president of this university. Thank you for your trust and support of me and our great university, as we keep moving forward during this extremely difficult time. It is our shared responsibility to repair the world, and I am grateful for your embrace of this moral imperative - Tikkun Olam.
---
March 20, 2020 - Remain True to Our Core Values
I realize the many logistical changes in campus operations, curriculum delivery and modification of training has challenged us in new ways as individuals and as a campus community. I deeply appreciate the response of our entire faculty and staff who are assuring the continuation of our students' learning. Our faculty, staff and administrators have come together in short order to see that Kansas City University's mission endures. I especially want to thank our faculty and staff who are on the frontlines of this crisis. These physicians, psychologists, nurses, scientists and others are the true heroes, for amidst the turmoil they are going into harm's way to improve the well-being of the communities we serve. Each of you make me proud to be a member of the KCU Team!
Indeed, the days and weeks ahead will be difficult. We will all know colleagues, family and friends who will become infected with the COVID-19 virus. Most will improve with basic supportive care. Others will need more extensive care from a health system that is being stretched beyond its capacity. Do what you can to provide support. Check on your family, friends and colleagues frequently. Staying connected will be essential during this time of social distancing. Remember, KCU has mental health resources available for employees who may be feeling isolated, overwhelmed or depressed. Visit myKCU for more information on our Employee Assistance Program.
Continue to follow the latest public health guidelines to mitigate spread of the virus, regularly checking resources such as the Centers for Disease Control and Prevention, our KCU COVID-19 web page and the Johns Hopkins Coronavirus Resource Center, and please share new information and knowledge.
Stay true to our university's core values as a framework for how we cope with this crisis. These guiding principles have served KCU well over the years and will strengthen our resolve in meeting this public health challenge:
Integrity, Compassion, Excellence, Collaboration,
Intellectual Curiosity, Innovation, Heritage
Once again, thank you for all you do for our community, this university and most importantly, our students. KCU remains committed to the well-being of our entire campus community and together we will persevere. During this stressful and challenging time, how we choose to respond will define our character as individuals, as an institution and as a nation for all of time. This can indeed be our finest hour!
---
March 13, 2020 - Prepare, Action, Knowledge
The safety and security of our Kansas City University (KCU) family is our number-one priority as we find our lives further upended by the global coronavirus pandemic. These are undoubtedly challenging times and we are navigating uncharted territory. KCU is committed to enlisting the best resources and expertise available to mitigate the spread of the virus and ensure the most positive outcomes for our campus community and the communities we serve.
Crisis response begins with an approach that incorporates a dedication to Preparation, Knowledge and Action. In 2015, KCU formed the Crisis Management Team (CMT) to be responsible for planning KCU responses to various manmade or natural disasters - including infectious disease. Exercises are held on a regular basis to address various scenarios.
Preparation
With the worsening coronavirus situation in Washington state, we activated the CMT to direct efforts toward minimizing the effects of the outbreak by instituting appropriate public health practices, maintaining continuity of our academic programs and ensuring our mission of improving the well-being of the communities we serve. The CMT has established clear, detailed procedures and protocols that are updated daily to assure we are most appropriately responding to this pandemic.
Knowledge
We will continue to monitor and share information and guidelines provided by the Centers for Disease Control and Prevention, the World Health Organization and other leading public health experts for current facts we can share regarding the impact of the coronavirus and best practices for us to follow. Additionally, the Johns Hopkins Coronavirus Resource Center webpage provides a real-time look at the spread and impact of the virus worldwide.
We will continue to share these resources so that our community is knowledgeable on the latest developments and recommendations.
Action
Based upon the current information received, KCU implemented a number of actions in response to this dynamic situation to help ensure the health and safety of our campus community.
These include, but are not limited to:
Providing information on public health best practices and prevention
Enhancing campus cleaning and hygiene protocols
Minimizing outside campus visitors
Requiring self-reporting of all international and certain domestic travel
Requiring self-monitoring upon return when necessary
Implementing web-based learning for students
Encouraging remote working for employees when possible
Canceling non-essential travel
Canceling, rescheduling or reformatting delivery of on-campus events
Discouraging attendance at off-campus events
Providing ongoing communications and updates to students, faculty and staff through our dedicated web page, social media, messages from leadership and intranet postings
As a reminder, social distancing remains key to the goal of slowing the spread of infection, thereby reducing the stress on our health-care system's finite capacity (The New York Times).
Managers and department chairs remain valuable contacts for any questions or concerns. Also, continue to monitor our COVID-19 web page for updates and email questions to COVID-19.Info@kcumb.edu.
No doubt, there will be challenges and uncertainty ahead. However, through preparation, knowledge and action we can help attenuate the spread of the coronavirus, support one another and live our KCU mission. I am blessed to be a part of this Kansas City University community and together we will surely come through this ordeal stronger.