Clinical Psychology Doctoral Program
Priority Deadline - Dec. 1, 2017
Apply to KCU's PsyD program by Dec. 1, 2017 for priority consideration on interview dates and scholarships. Priority application does not guarantee acceptance.
The Health Service Psychology Program at KCU offers broad and general doctoral level training in clinical psychology with the conferral of a Doctor of Psychology degree (PsyD). The program integrates empirical evidence and practice through competency-based coursework and clinical training experiences.
The program's curriculum begins by exposing you to the basic building blocks of psychology including the foundations of psychological science and history and systems. There is specific focus placed on psychological assessment skill acquisition, test construction and test interpretation in the first year of the program in order for you to be able to build the skills necessary for practicing clinical psychology.
The second year of the program introduces you to more theoretical and practice focused coursework. Additionally, in the second year you are exposed to a series of courses in diversity highlighting the program's commitment to the professional value of individual and cultural diversity. The second year also provides you with the opportunity to utilize your assessment skills through a diagnostically focused practicum experience.
The third year of the program asks you to synthesize the coursework material from years one and two in order to demonstrate even more complex skills. For example, you'll be integrating basic neuropsychological science and clinical practice in courses like psychopharmacology, consultation and integrated health care. Further, you'll engage in a therapy practicum where your clinical skills will continue to be assessed through direct observation.
The fourth year of the program continues to integrate complex academic coursework, a therapy practicum experience, and the dissertation process. The fifth year is primarily dedicated to internship, however, some students will continue with their dissertation work during this year.
The doctoral program in Clinical Psychology at KCU is pleased to be able to offer Advanced Standing for students who have completed a master's degree in psychology or a related field and have been accepted into the PsyD Program. There are, however, a number of requirements for the award of Advanced Standing.
Advanced Standing allows the opportunity for students to graduate in four, rather than five years. Because these students enter the program with an advanced degree and clinical experience, they are able to begin practicum in their first year. Students accepted into Advanced Standing will not be eligible for courses specific to the Geropsychology Specialty offered by the KCU Clinical Psychology doctoral program.
Medical School Synergies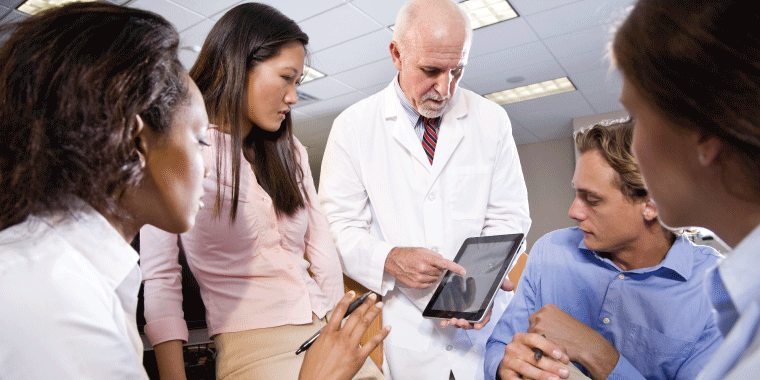 ---
Health care delivery in the 21st century will continue to be driven by a growing trend toward comprehensive patient health care teams, in which clinical psychologists work in partnership with physicians to help patients with the psychological components of their physical illnesses.
KCU's current osteopathic medical school curriculum will be a natural complement to the practitioner focus of the PsyD program, creating multiple opportunities for interprofessional education and training.
Faculty Spotlight: Sarah Getch, PhD