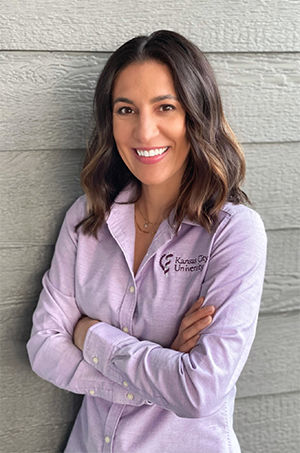 Erinne Kennedy, DMD, MPH, MMSc

Director of Pre-doctoral Education
Background

Dr. Erinne Kennedy is an Ohio State University graduate and comes from Middleport, Ohio. She graduated from the Nova Southeastern University's College of Dental Medicine in 2015. Dr. Kennedy loved everything about dental school, especially being involved in organized dentistry. While in dental school she was involved with ASDA (American Student Dental Association) as a local vice president and national contributing editor. After dental school Erinne attended a one-year general practice residency at the VA Hospital in Baltimore, MD. Erinne has a passion for community health, and received her certificate for a dental public health residency from the Harvard School of Dental Medicine (HSDM) in 2018. In May 2019, she graduated as the pioneer student at HSDM with a MMSc in dental education.
She has a passion for antibiotic stewardship and has been a part of the American Dental Association (ADA) expert panel for developing the guideline on the Use of Antibiotics for the Emergency Management of Symptomatic Irreversible Pulpitis, Symptomatic Apical Periodontitis, and Localized Acute Apical Abscess. Also, she hosted the first state training on antibiotic stewardship in combination with The Forsyth Institute and the Massachusetts Department of Public Health in April 2019. She created and released a state toolkit, website, and training specifically for oral health clinicians on antibiotic stewardship clinical practice. Additionally, she has a passion for understanding burnout among dental faculty and conducted a region survey to measure burnout among dental faculty.
She is a contributing editor for Dental Economics, and on the Junior Editorial board for Dental Entrepreneur Women (DeW). Dr. Kennedy's professional affiliations include: The American Dental Association, The American Association of Public Health Dentistry, The Massachusetts's Dental Association, and The Academy of General Dentistry. She serves as the director of pre-doctoral education at Kansas City University College of Dental Medicine in Joplin, MO.
Interests and Specialties
Antibiotic stewardship and clinical practice
Private practice of public health dentistry and preventive dentistry
Salivary chemistry
Provider burnout and resilience
Interprofessional education and practice
Online Profiles