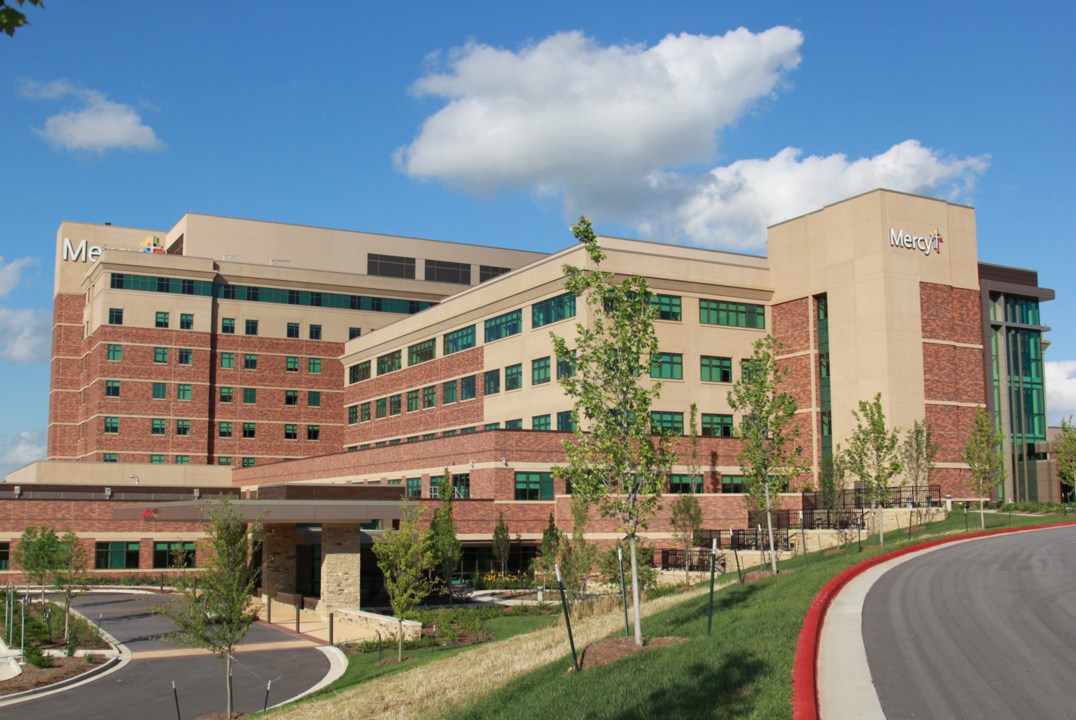 ---
Mercy Hospital is a not-for-profit hospital located in southwest Missouri. Inpatient facilities are located on two campuses: Mercy Hospital Joplin in Joplin, Mo., and Mercy Hospital Carthage in Carthage, Mo. The system service area serves a population of 500,000 lives. The medical staff is comprised of more than 300 physicians. Mercy Hospital Joplin is a 240-bed facility with Level II trauma designation complete with state-of-the-art technology and equipment from imaging to laboratory to the operating rooms and the cancer center for faster diagnostics and treatment. Integrated electronic health record system connects patient care within the hospital, across Joplin and throughout Mercy, coordinating care to ensure healthier patients while eliminating testing duplication.
Mercy is the fifth largest Catholic healthcare system in the U.S. and serves millions annually. Mercy includes 44 acute care and specialty hospitals (heart, children's, rehab and orthopedic), more than 700 physician practices and outpatient facilities, 40,000 co-workers and more than 2,000 Mercy Clinic physicians in Arkansas, Kansas, Missouri and Oklahoma. Mercy also has outreach ministries in Arkansas, Louisiana, Mississippi and Texas.
School Affiliation
The hospital is affiliated with KCU's College of Osteopathic Medicine, MU School of Medicine's Rural Track Program, Des Moines University College of Osteopathic Medicine, Kirksville College of Osteopathic Medicine and University of Missouri - Kansas City.
Hospital Statistics
Bed Capacity - 240
Admissions - 10,875
ER Visits - 37,568
Births - 1,092
Inpatient Surgery - 2,000
Outpatient Surgery - 3,098
DOs on Staff - 65
MDs on Staff - 246
Third-Year Clerkships
Family Medicine (1 block) Outpatient
Internal Medicine (2 blocks) Inpatient/Outpatient
Surgery (2 blocks) Inpatient/Outpatient
Ob/Gyn (1 block) Inpatient/Outpatient
Pediatrics (1 block) Inpatient/Outpatient
Psychiatry (1 block) Inpatient/Outpatient
This site schedules clinical experiences in four-week increments.
Third-Year Selectives
Anesthesiology
Cardiology
Cardiothoracic Surgery
Critical Care
Emergency Medicine
ENT
Family Medicine
Gastroenterology
Hematology/Oncology
Infectious Disease
Internal Medicine
Neonatology
Neurosurgery
Ob/Gyn
OMM
Ophthalmology
Orthopedics
Pain Management
Pathology
Pulmonology
Radiation Oncology
Radiology
Rheumatology
Surgery
Urology
Vascular Surgery
Fourth-Year Clerkships
Rotations available in most specialties including: Anesthesia, Bariatric Surgery, Cardiology, Cardiovascular and Thoracic Surgery, Critical Care Medicine, Emergency Medicine, ENT, Endocrinology, Family Medicine, Gastroenterology, General Surgery, Hematology/Oncology, Infectious Disease, Internal Medicine, Neonatology, Nephrology, Neurology, Neurosurgery, Ob/Gyn, OMM, Ophthalmology, Orthopedic Surgery, Pain Management, Pathology, Pediatrics, Plastic Surgery, Psychiatry, Pulmonology, Radiation Oncology, Radiology, Rheumatology, Urology and other sub-specialties as available.
Residency Information
Mercy Hospital Joplin is not accredited for Graduate Medical Education at this time; however there are residency programs available in the region through Freeman Health System, CoxHealth and Mercy St Louis.
Resources & Benefits
Facility Resources: Students will have access to conference room, computers, medical education library, internet, printers, study area, lounge, subject exam testing and online library resources
Meal Benefits: Full access to physician dining room and when not serving meals; $6 per meal allowance available to medical students in the cafeteria while on duty
Visiting Student Housing: Housing is available to visiting (non-core) students for $100 per four-week clerkship
Duties & Opportunities
Student Duties: Students are required to participate in night call and weekend call with assigned preceptor(s) and may be required to work weekend shifts or make weekend rounds
Didactic Opportunities: Students are required to participate in all scheduled didactic sessions and skills labs; students will participate in morning report, lectures and patient rounds, attend CMEs and complete required reading as assigned
OMT/OPP Opportunities: Monthly OMM Lab held on KCU-Joplin Campus
Unique Site Characteristics
Background Check and Drug Screen is required for third year only
Two-step TB Test required within 12 months of start date and TB Screening is required annually thereafter
TB Mask Fit provided by the hospital
PALS Certification provided by the hospital
BLS Certifications must be current
Orientation is provided prior to the first clerkship
Contact Information