Via Christi Hospitals Wichita, Inc.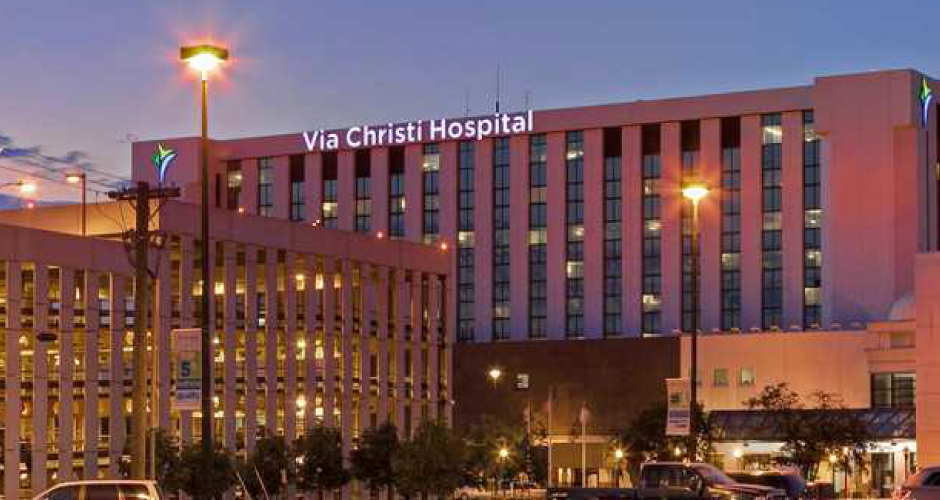 ---
Via Christi Health System is the largest privately owned, not-for-profit medical center in the region. There are two acute-care hospitals: Via Christi-St. Francis and Via Christi-St. Joseph; a behavioral health campus, rehabilitation hospital, home health agency and outpatient services at several satellite locations.
The Medical Center has a reputation for excellence in many areas including burn care; behavioral health and addiction; cancer; cardiovascular disease; diabetes; emergency medicine; gerontology; neuroscience; orthopedics and sports medicine; rehabilitation; surgery; heart, kidney and pancreas transplantation; Level I (highest level) trauma; Level III (highest level) NICU; women's health; research; education and wellness. There are 1,532 licensed beds, more than 4,000 employees and 800 active physicians on staff.
Site Focus:
Family Medicine
School Affiliations
KU School of Medicine - Wichita
KCU's College of Osteopathic Medicine
Hospital Statistics
Via Christi on St. Francis
Total Beds - 718
Admissions - 30,859
ER Visits - 110,010
Births - 2,400
Inpatient Surgeries - 6,814
Outpatient Surgeries - 5,698
Trauma Center - Yes
DOs on Staff - 54
MDs on Staff - 554
Wesley Medical Center
Total Beds - 504
Admissions - 25,279
ER Visits - 124,066
Outpatient Visits - 175,548
Births - 6,133
Inpatient Surgeries - 9,620
Outpatient Surgeries - 17,780
Trauma Center - Yes
Third-Year Clerkships
Family Medicine - Inpatient/Outpatient
Internal Medicine - Inpatient/Outpatient
Surgery - Inpatient/Outpatient
Ob/Gyn - Inpatient/Outpatient
Pediatrics - Inpatient/Outpatient
Psychiatry - Inpatient/Outpatient
This site schedules clinical experiences in four-week increments.
Third-Year Selectives
Anesthesiology
Cardiology
Dermatology (two-weeks only)
Endocrinology
ENT
Gastroenterology
Hematology/Oncology
Hospice/Palliative Care
Internal Medicine
Maternal Fetal Medicine
Nephrology
Neurology
OMM
Ophthalmology
Orthopedics
Pathology
PM&R
Plastic Surgery
Radiology
Rheumatology
Surgery
Trauma Surgery
Urology
Wound Care
Fourth-Year Clerkships
Clerkships may be scheduled in the following areas:
Cardiology
Emergency Medicine
Family Medicine
Internal Medicine
Ob/Gyn
Pediatrics
Surgery
as well as various sub-specialties
Residency Information
Anesthesia
Family Medicine
Internal Medicine
Psychiatry
General Surgery
Orthopedic Surgery
Sports Medicine Fellowship
International Family Medicine Fellowship
Resources & Benefits
Facility Resources: Students will have access to the medical library, computers, internet, printers and phones while on duty at the hospital.
Meal Benefits: Students may receive meal benefits while on duty during clerkships through a special grant.
Visiting Student Housing: Housing is available to visiting students rent-free on a first-come, first-served basis.
Duties & Opportunities
Student Duties: Students are required to participate in night call, weekend rounds and weekend rounds as assigned.
Didactic Opportunities: Students are required to participate in morning report, lectures, patient rounds, required reading, as well as OMT lectures, rounds and skills development as assigned.
OMT/OPP Opportunities: Opportunities for skill development in OMT/OPP is provided through lectures, patient rounds and in the clinical setting during family medicine and internal medicine clerkships.
Unique Site Characteristics
Background Check and Drug Screen is required for third year only
Physical Examination required annually
TB Screening is required annually
BLS and ACLS Certifications must be current
Orientation is provided prior to the first clerkship
Housing available to third-year students, first come first served
Must submit a DME Personal Statement, Curriculum Vitae (CV) prior to Clerkship Match
Skype interview with the Program Director may also be required
Additions or changes may occur at any time
Contact Information