---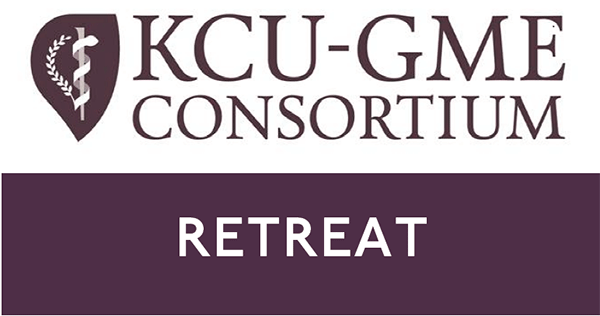 Building A Foundation For A Successful Consortium
April 2-3, 2020
Please plan to join us for residency program development sessions, sharing of best practices and networking.
The retreat will be held on the KCU campus in Kansas City, Mo. and broadcast to the KCU campus in Joplin, Mo. The retreat is open to all Graduate Medical Education professionals.
Program directors and core faculty will have the opportunity to display research in the form of a poster presentation at the GME Retreat. The presenter must be an author on the project and must attend the retreat in order to be selected. Contact gme@kcumb.edu for more information.
KCU offers a discounted room rate and a daily shuttle at nearby Fairfield Inn.
If you are planning to take advantage of this special rate, booking should be done by March 18.
Schedule Below
APRIL 2
Breakfast
7:45 - 8:00 a.m.
Introductions and Ice Breaker
KCU GME Department
8:00 - 8:30 a.m.
Jeopardy: ACGME Updates and Sponsoring Institution Mission, Aims, and Policies
Kerrie Jordan, MS, C-TAGME, Designated Institutional Official/GME Director, KCU
Amanda Walls, C-TAGME, GME Manager, KCU
8:30 - 9:15 a.m.
Conflict Management in Medicine
James Kesl, DO, Orthopedic Faculty, St. Mary's Medical Center
Charles Orth, DO, Orthopedic Surgery Program Director, St. Mary's Medical Center
9:15 - 10:00 a.m.
Faculty Leadership Development: Leading with Emotional Intelligence
Tyson Schank, MS, HR Manager-Organizational Development and HRIS Analyst, KCU
10:15 - 11:15a.m.
Resident Remediation Guidelines and Due Process
Jeannette Guerrasio, MD, Associate Professor of Medicine and Director of Remediation and Individualized Learning Plans, University of Colorado Department of Medicine
11:15 - 12:15 p.m.
Lunch
12:15 - 12:45 p.m.
Outcome-Driven Curriculum and EPA's
Kenneth Heiles, DO, Associate Dean for GME
12:45 - 1:30 p.m.
Evaluation and Feedback: The Educators Role
Nathan Miller, DO, Internal Medicine Residency Assistant Program Director and Core Faculty, Freeman Health System
1:30 - 2:30 p.m.
Osteopathic Recognition: Best Practice, Evaluation, and Compliance
Natasha N. Bray, DO, MSEd, FACOI, FACP, Chair for Osteopathic Principles Committee, ACGME
2:45 - 3:45 p.m.
New Residency Program Development
Gary Slick, DO, Vice President for Academic Affairs and Senior Associate Dean, Oklahoma State University Center for Health Sciences
3:45 - 4:45 p.m.
APRIL 3
Breakfast
7:45 - 8:00 a.m.
The Sponsoring Institution and the CLER Pathways
Susan Hathaway, PhD, MEd, Vice Chair/Administrative Director, Children's Mercy Graduate Medical Education
Ross Newman, DO, MHPE, Program Director, Children's Mercy Pediatric Residency
8:00 - 8:45 a.m.
Patient Safety and Health Care Quality
Juan Jaramillo, GME Quality and Safety Education Coordinator, KCU
8:45 - 9:30 a.m.
Disparities in Medicine: Giving Back to the Community
Ray Newman, DO, Chief Medical Officer for Score I for Health-Primary Care, KCU
9:30 - 10:15 a.m.
Care Transitions: Teaching Effective Transitions of Care in Residency
Robert Tyler, DO, MMEL, FACP, Assistant Professor of Primary Care and Internal Medicine, KCU-Joplin
10:30 - 11:30 a.m.
Supervision: The Importance of Supervision and Role Modeling
Robert McNab, DO, VP, Medical Education, and Internal Medicine Residency Program Director, Freeman Health System
11:30 - 12:15 p.m.
Lunch
12:15 - 12:45 p.m.
Well-Being: Physician and Health Professional Wellness- How to Understand and Effectively Manage Burnout
William Carpenter, DO, Medical Director, Physician Health Program, Capital Region Physicians Center for Mental Wellness
12:45 - 2:15 p.m.
Professionalism: Enhancing Ability to Fulfill Educational and Professional Responsibilities, Including Scholarly Pursuits
Lori Fitterling, MLS, University Library Director, KCU
Suporn Sukpraprut-Braaten, MSc, MA, PhD, Assistant Professor for Research, Unity Health-White County Medical Center and Adjunct Clinical Assistant Professor, KCU
2:15 - 3:15 p.m.