D'Angelo Library Digital Archives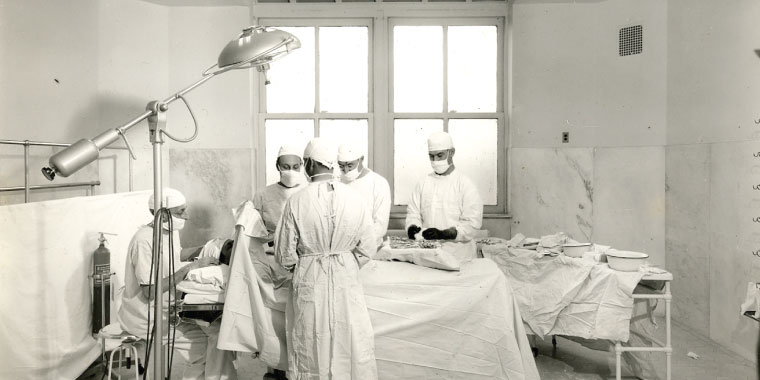 ---
Historical Postcard Collection shows rare images from the history of KCU, its affiliated hospitals, and other osteopathic institutions all over Missouri and the United States.
KCU Historical Overview from its founding as the Kansas City College of Osteopathy and Surgery in 1916, through the first renovation of the Administration Building, and the return of the iconic clock tower to campus.
KCU Archives Photographic Collection features digitized images of the University's students, faculty and facilities through the decades.
KCU Library Archives Yearbook Collection is a searchable, digitized collection of yearbooks beginning with the Osteopath (1927-1930, 1932, 1934) and resuming as the Stethoscope (1952-1984, 1987-2005). Currently in progress.
KCU Library Archives Military Collection features the first DO commissioned as a medical officer in the Armed Forces, Dr. Harry J. Walter (COM '65), as well other KCU alumni who have served, including Dr. Edward Feldman's (COM '66) at the siege of Khe Sanh in Vietnam.
KCU Library Archives Hospitals Collection features hospitals the University operated or was affiliated with in Kansas City including Lakeside, Osteopathic Hospital at 11th and Harrison, Conley Maternity Hospital, University Hospital (now Century Towers) and Park Lane Medical Center. Also included is the original Children's Mercy Hospital, now KCU's Administration Building.
Early Osteopathic Literature contains digitized copies of historic journals and booklets, including a series of pamphlets that served as early patient education in osteopathy.