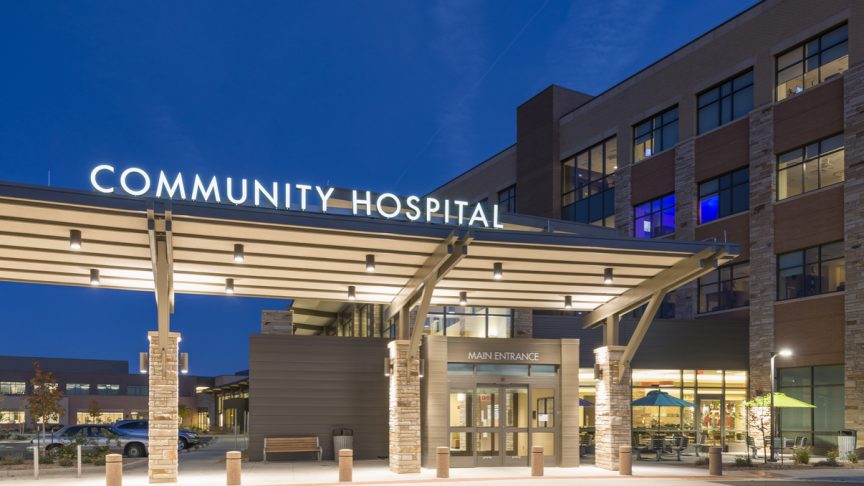 Community Hospital
---
Community Hospital in Grand Junction, Colorado, is a full-service, acute care hospital licensed for 60 beds. As part of the Colorado West Healthcare System, we are a Level III Trauma Center that offers full outpatient diagnostic services and inpatient care for the Western Slope region of Colorado and eastern Utah. Community Hospital brings together expert staff and world-class technology in a healing, family-centered environment.

We provide a full range of medical services, including inpatient and outpatient surgery, and emergency care. We have comprehensive diagnostic capabilities: state-of-the-art ultrasound, CT (Philips Ingenuity 128 MDCT), digital mammography and cardiac testing. Community Hospital proudly partners with University of Utah Heath Care and Huntsman Cancer Institute to provide world-class medical and radiation oncology treatment right here at home.

Community Hospital is Joint Commission accredited. Our laboratory is College of American Pathologists-accredited. For those lab tests that we don't conduct on site, the Mayo Clinic is our exclusive partner for reference laboratory services.

We pride ourselves on delivering personalized care to our patients, and in working closely with our medical care providers in treating the whole person. This approach has resonated with our patients and we are growing to meet our community's demand.

On October 15th, 2014, Community Hospital broke ground on a new four-story, 140,000 square foot, state-of-the-art facility. Our NEW hospital opened Thursday, March 17th, 2016!
School Affiliations
KCU College of Osteopathic Medicine
Hospital Statistics
Total Beds - 44
Admissions - 2,838
ER Visits - 5,467
Births - 164
Outpatient Visits: 104,146
Inpatient Surgeries - 1,078
Outpatient Surgeries - Not reported
Trauma Center - Level III
DOs on Staff - 55
MDs on Staff - 233
Third-Year Clerkships
Family Medicine (4 weeks) - Inpatient/Outpatient
Internal Medicine (8 weeks) - Inpatient/Outpatient
Ob/Gyn (4 weeks) - Inpatient/Outpatient
Pediatrics (4 weeks) - Inpatient/Outpatient
Psychiatry (4 weeks) - Inpatient/Outpatient
Surgery (8 weeks) - Inpatient/Outpatient
This site schedules clinical experiences in four-week increments.
Third-Year Selectives
Anesthesiology
Cardiology
Emergency Medicine
Gastroenterology
Orthopedic Surgery
Otolaryngology/ENT
Pulmonary Medicine
Radiology
Fourth-Year Clerkships
Anesthesiology
Cardiology
Emergency Medicine
Gastroenterology
Orthopedic Surgery
Otolaryngology/ENT
Pulmonary Medicine
Radiology
Residency Information
Resources & Benefits
Facility Resources: Students have access to computers, internet and medical records while on duty at the hospital
Meal Benefits: Daily meal stipend provided
Visiting Student Housing: Housing is unavailable at this time
Duties & Opportunities
Student Duties: Students are required to participate in weekly rounds, night call and weekend rounds as assigned
Didactics: Students are required to participate in lectures, rounds and reading as assigned
OMT/OPP Opportunities: Students are required to participate in didactics and skill development in OMT/OPP as provided
Unique Site Characteristics
Background check and drug screen is required annually
Global Track Students must communicate third-year clerkship obligations to site as soon as the Clerkship Match Process is finalized
Military Track Students must communicate third-year clerkship obligations to site as soon as the Clerkship Match Process is finalized

NBOME COMAT Subject Exams are proctored at this core site

Orientation is provided on the first day of clerkship
TB screening required annually (two-step)

Travel may be required for third-year Clinical Skills Assessment (CSA)
Additions or changes to this site's information may occur at any time - information last updated 10/22/19
Contact Information
KCU Clinical Clerkship Coordinator: Noelle Herman
Core Site Contact: Briana Warden
Director of Medical Education: Ugne Cassidy, DO