Venue & Hotel Information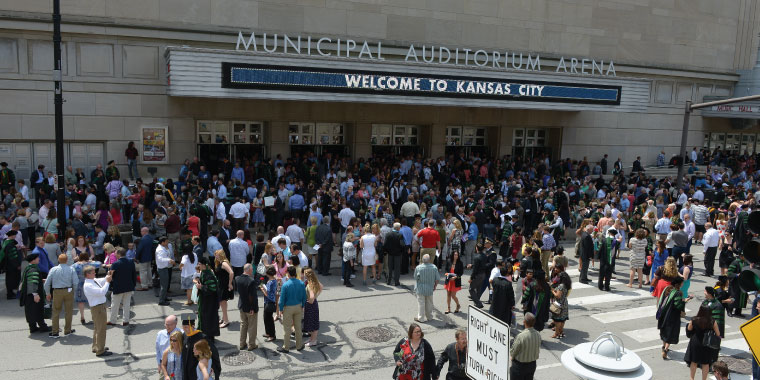 Municipal Auditorium
301 West 13th Street
Kansas City, Missouri 64105
---
Commencement Venue and Seating
Parking
One complimentary parking voucher will be available in the parking garage below the Barney Allis Plaza for all graduates. Enter the garage from Wyandotte or Central Streets between 12th and 13th streets. Well-lit tunnels with colorful directional signage connect the garage to the Convention Facilities. Additional cars will be charged for parking. All additional parking options downtown can be found here.
General Requirements for Seating
Tickets for guest seating are not required for the Commencement Ceremony. Municipal Auditorium doors will open at 8 a.m., and all guests must be in their seats by 8:55 a.m. No seats will be reserved, with the exception of special needs seating which must be requested through the Commencement Form.
Special Accommodations
We are happy to accommodate your guests with special needs. You can reserve handicapped parking or wheelchair accessibility by completing the Special Accommodations Section on the Commencement Form by February 3. If extenuating circumstances occur and you or your guests need special accommodations after the deadline, please contact commencement@kcumb.edu.
Kansas City offers a wide selection of accommodations. For a list of options, including KCU's block rates at the Downtown Marriott, Crowne Plaza and Fairfield Inn Union Hill, please click below.