The Learning Enhancement team assists KCU students with the development and strengthening of skills to promote confidence and self-directed learning. Students are encouraged to set goals and work toward accomplishing them through a mixture of individual coaching, identification and utilization of resources, and targeted action planning. Learning specialists work with students on any topic related to being successful academically, including study skills, time management, organizational skills and test taking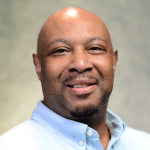 Ray Elliott, BS
Learning Specialist - Student Services - Kansas City
Leonard Smith Hall, Room 322
relliott@kcumb.edu
816-654-7217
Credentials
Bachelor of science in biology, University of Missouri-Kansas City
Bachelor of science in Chemistry, University of Missouri-Kansas City
Experience
Ray has been working in medical education for more than 30 years, providing medical students with guidance in the pursuit of reaching their goal of becoming a physician. In his early career, he worked in the only board preparation program in the city. He has been employed at the University of Kansas School of Medicine and the University of Missouri Kansas City School of Medicine, finally settling at KCU. He has a wealth of knowledge on how to succeed.
Kathy Phillips, MEd
Learning Specialist - Student Services - Kansas City
Leonard Smith Hall, Room 200A
kphillips@kcumb.edu
816-654-7224
Credentials
Master's in higher education administration, University of Missouri-Kansas City
Bachelor of science with emphasis in anatomy and physiology, Kansas State University
Experience
Kathy has worked for more than 20 years in the field of academic support, providing programs and academic coaching to undergraduate, graduate, and professional students, including medical residents and fellows. Much of her work has been with board preparation and with incoming medical students as they make the transition into the world of professional school. Kathy is also a licensed and nationally certified Massage Therapist, maintaining a private practice since 2002. Her commitment, whether in academics, mind/body therapy, or otherwise is to help people get what they want out of life. "It's that desire that drives me to help students succeed!"
Janelle Dozar, MA
Learning Specialist - Student Services - Kansas City
Leonard Smith Hall, Room 307
jdozar@kcumb.edu
816-654-7216
Credentials
MA Leadership with an emphasis in Student Affairs in Higher Education, University of Colorado-Colorado Springs
BA Journalism with a minor in English, Northwest Missouri State University
Apple Vanguard Member
Experience
Janelle has 15 years of experience in higher education. This has given her the opportunity to work one-on-one with students, teach in the classroom and create academic support centers. Her background is in academic support, academic advising, first-generation students and tutoring. When not working at the University she enjoys hiking in Colorado and being a loud soccer mom.