KCU Remembers Henry W. Bloch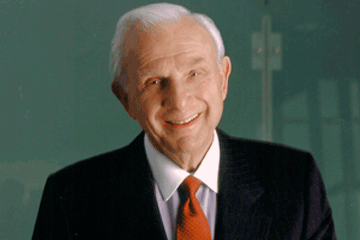 Kansas City University joins the local community in honoring the life and legacy of entrepreneur, family man, civic leader and philanthropist Henry W. Bloch. Bloch died Tuesday at the age of 96. Co-founder of nationally known tax preparation company H&R Block, Inc., he gave generously throughout many years to improve the well-being of our Kansas City community and make it a better place to live, work and play.
In December 2018, KCU received its first grant from the Marion and Henry Bloch Family Foundation. The grant was provided to support strategic planning for our Score 1 For Health screening program for elementary school children in the city's urban core. "This grant will play an integral role in shaping Score 1's next 25 years by helping KCU identify opportunities to expand program outreach to best meet the needs of the community and our students," said Marc B. Hahn, DO, KCU president and CEO. "We are grateful to Mr. Bloch and the foundation for their support."
Bloch will be greatly missed and long-remembered by countless individuals and organizations as one of Kansas City's most ardent champions.